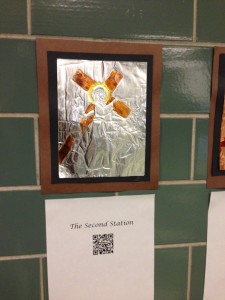 A traditional Lenten practice is praying the Stations of the Cross. The 7th graders at our school present a tableau of the Stations of the Cross. Every year it is a powerful performance.
This year our school purchased a cart filled with 32 iPads. I'm always on the look out for new ways to add tech to our classroom. This year I wanted to add tech to our hallways. Last year, during a #CatholicEdChat where we were sharing ideas for Lent, Kay Basailon, shared her principal's idea. Here is her principal, Patricia's blog.  So here is how I made our version of the QR Code Stations of the Cross.
Our 4th graders, every year, use Craft Foil to make these beautiful Stations of the Cross. One classroom uses the copper side and the other the silver side. They take their piece of foil and tape one simple scene, from the stations of the cross, to their work. They take a ball point pen and trace the outline. The tracing is embedded into the foil. Once they are done, they use a brown marker for the cross and a yellow highlighter for the halo.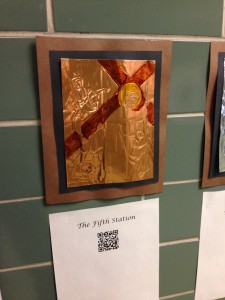 Our 3rd graders used the Stations of the Cross reflection from Loyola Press. I used my iPhone to record their voice using the app AudioBoo. Once I had a URL from AudioBoo, I used the Chrome extension goo.gl to make the QR code. Voila!
I think this activity made the Stations of the Cross more personal to my students. I know I have become more involved in this Catholic Lenten practice this year with listening to my students record the reflections and viewing the images made by the 4th graders.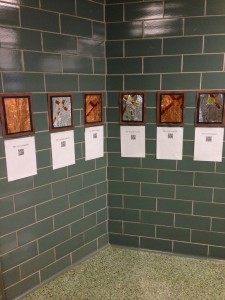 I also know that this idea has spread onto at least 2 friends in my Twitter PLN. Tracy Edmisten did something similar with her 4th graders. Click HERE to see her student's work.
This idea also went to a Michigan classroom where Mrs. Sack teaches 6th, 7th and 8th graders. They took it to whole other level! Besides QR Codes they used Augmented Reality. Click HERE and HERE to see the beginnings of their work.