I began the summer reading a book highly recommended by my Twitter PLN. Ahoy! That book be Teach Like a Pirate by Dave Burgess. Avast! Buy your copy today!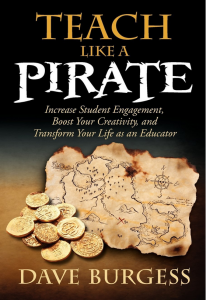 In all seriousness, this book was a great read and inspiring to me. I love how Dave included has many examples of his teaching.  I also love how generous he is with his time. He has been to many Twitter chats this summer. You can follow him on Twitter here. He is so encouraging and positive. I've joined the #eduCoach and #SSchat to discuss his book and have used the hashtag #tlap whenever I have an idea that follows the ideas from his book.
Dave's subtitle is "Increase Student Engagement, Boost Your Creativity, and Transform Your Life as an Educator." The word Pirate is broken up into
Passion

Immersion
Rapport
Ask and Analyze
Transformation
Enthusiasm
This summer I wrote several blog posts about my Catholic classroom. I thought about it and I think I'm onto the PIRATE path. I blogged about blending Catholic Identity into my regular curriculum. Come to think of it, perhaps this would make a good session for the NCEA conference in April!
Here are my recent posts.
Hmm, I have until August 15th to submit a session proposal for the NCEA conference…