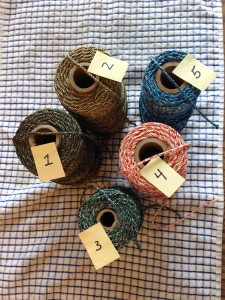 Hello! Would you like to help me with a fun activity? How about picking the color of twine for a Wedding Lasso Rosary for my son and his new wife? I will be adding a St. Francis Crucifix at the end. This type of  crucifix is also known as the San Damiano Crucifix. I am planning on using the one with golden tones.
The Wedding Lasso Rosary is an Hispanic tradition. The Rosary will have 2 loops of 5 Decades so the couple can pray the Rosary together. It also will be used in the Wedding Ceremony as Mary 'places' her arms around the groom and bride with one loop going on the groom's shoulders and the other on the bride's shoulders.
Here is the link to the Google Form. 
Please place your 1 vote by July 10th so I have plenty of time to make the Rosary.
I will be using the site MapAList.com to show where people voted from.
Thanks for helping!