For this Lenten season, I'm consciously trying to live The Corporal Works of Mercy. I got this idea after reading Kerry Weber's new book Mercy in the City. My 3rd graders are also learning about and practicing the Works of Mercy too. I found a wonderful website where a husband and wife team sell beautiful Catholic art and books. The wife is the artist and she's amazing. If you have a chance to look at her other work, you will be in for a treat. You can click HERE to see it.
You might know that I love the Saints of the Catholic church, so when I saw this bulletin board set, I just had to have it! Here are the Saints and the work of mercy they are matched up to. This is what is added to each picture.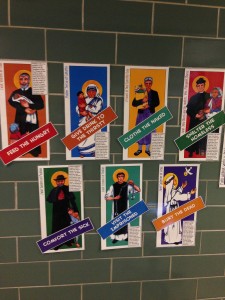 Feed the Hungry- St. Vincent de Paul, Founder of the Congregation of the Mission and the Daughters of Charity, Vincent de Paul (1580 to 1660), devoted his life to living the Works of Mercy. His work is still alive today all over the world in numerous Vincent de Paul societies as well as countless religious who trace the roots of their vocation to him.
Give Drink to the Thirsty- Blessed Mother Teresa of Calcutta, Founder of the Missionaries of Charity, Mother Teresa (1910-1997) showed the world she was not afraid to practice the Works of Mercy. Working among the poorest of the poor, she recognized they were Christ in disguise. She won the Nobel Peace Prize and stood up to many world leaders.
Clothe the Naked- Servant of God Dorothy Day, Dorothy Day (1897 to 1980) was an American journalist, activist and devout Catholic convert. As a young woman she led a sinful life, but was able to change her life based on the Works of Mercy. She stared the Catholic Worker Movement and believed in bringing about a revolution of the heart.
Shelter the Homeless- St. John Bosco and he mother, Venerable Margaret Bosco, Founder of the Salesians, John Bosco (1815-1888) took homeless boys off the streets and taught them about God and to have a profession. His mother, Margaret, came to help him and became known as Mama Margaret. John believed that love was the most important gift he could give to those around him.
Comfort the Sick- St. Damien of Molokai, Damian Joseph De Veuster (1840 to 1849) was sent to Hawaii as a missionary. He heard about the leper colony on Molokai and wanted to tend to their many spiritual and temporal needs. After a brief visit, he insisted he be assigned to the colony knowing he could contract and die from leprosy.
Visit the Imprisoned- St. Leonard of Noblac, Leonard of Noblac (died 559) was a noble man who convinced the king to allow him to free prisoners he felt were wrongly accused. He gave parcels of his land to freed prisoners  so that they would have the means to live an honest life.
Bury the Dead- St. Catherine of Siena, Catherine of Siena (1347 to 1389) is only one of the four women Doctors of the Catholic Church. Catherine dedicated much of her life to helping the ill and the poor. She took care of them in hospitals or homes and ensured all that died were given a proper Christian burial. She worked hard to bring peace to all around her.